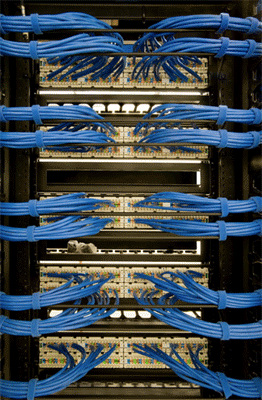 4M Connect supplies a wide range of Data services.
Wiring & Cabling 4, 25,100-Pair & more
Network system installation & troubleshooting
Wireless Access Points
POS Systems
Time Clocks
People Counters
Printers
Back-up Systems
Cat. 5e, Cat. 6e, Fiber Optics
Backbone and Horizontal distribution
PVC, plenum, outdoor, indoor & riser
Patch panels and termination blocks
Wall mount and free standing racks
Cable trays and raceways
Testing and certification
Design and consulting
Patch cables
All network devices that you are using will need the correct cabling infrastructure to ensure it works properly. Structured cabling design and installation have standards and strict codes that determine how to wire Commercial and Industrial buildings. All cabling is installed with the most recent up to date codes and follows all EIA/TIA and BICSI installation standards and we are a member of BICSI. Using Category 5e, Category 6, Fiber Optics and other cabling options to get your network running at peak performance.
Design and Consulting services available.
With so many options to choose from let 4M Connect help you make that right cabling infrastructure choice.